We're willing to bet you probably have at least one pair of leggings in your closet. In fact, you probably have at least one pair of exercise leggings—if not more—in your wardrobe. We can't blame you!
Athleisure has become extremely popular worldwide, especially exercise leggings.
Gym leggings are usually our go-to piece of apparel for a variety of exercises and entertainment activities because they come in a variety of styles, colours, and designs. As a result, all high street retailers now say that they can supply you the perfect pair of workout leggings.
Not all, however, provide the degree of comfort and support we want, nor are they all appropriate for the job. The global leggings market size was valued at USD 32.89 Billion in 2022 and is expected to reach USD 57.97 Billion by 2031.
That's a lot of leggings! We're here to help you with an expert guide finding good quality leggings and how they should fit for your workouts.
What are gym leggings?
Gym leggings and regular leggings have a few key differences that make them more appropriate for working out:
Material
Sport and gym leggings are composed of thicker, more elastic materials that are moisture absorbing, while regular leggings are typically made of thinner cotton. Gym leggings should feel like a second skin on your body for an easier workout.
Look for leggings with four way stretch fabric for ultimate comfort.
Fit
The purpose of gym leggings or yoga leggings is to fit your body shape and not get in the way of your stretches or movements, which is why finding the right size leggings is super important. Regular leggings fit loosely and occasionally become saggy when you move a lot.
Length
Gym leggings come in a range of lengths from just below the knee to mid-calf such as the capri legging, with the majority of designs ending at the ankle. Sports and gym leggings are comparable in composition to the materials used to make cycling shorts. Ankle length is the typical length for regular leggings.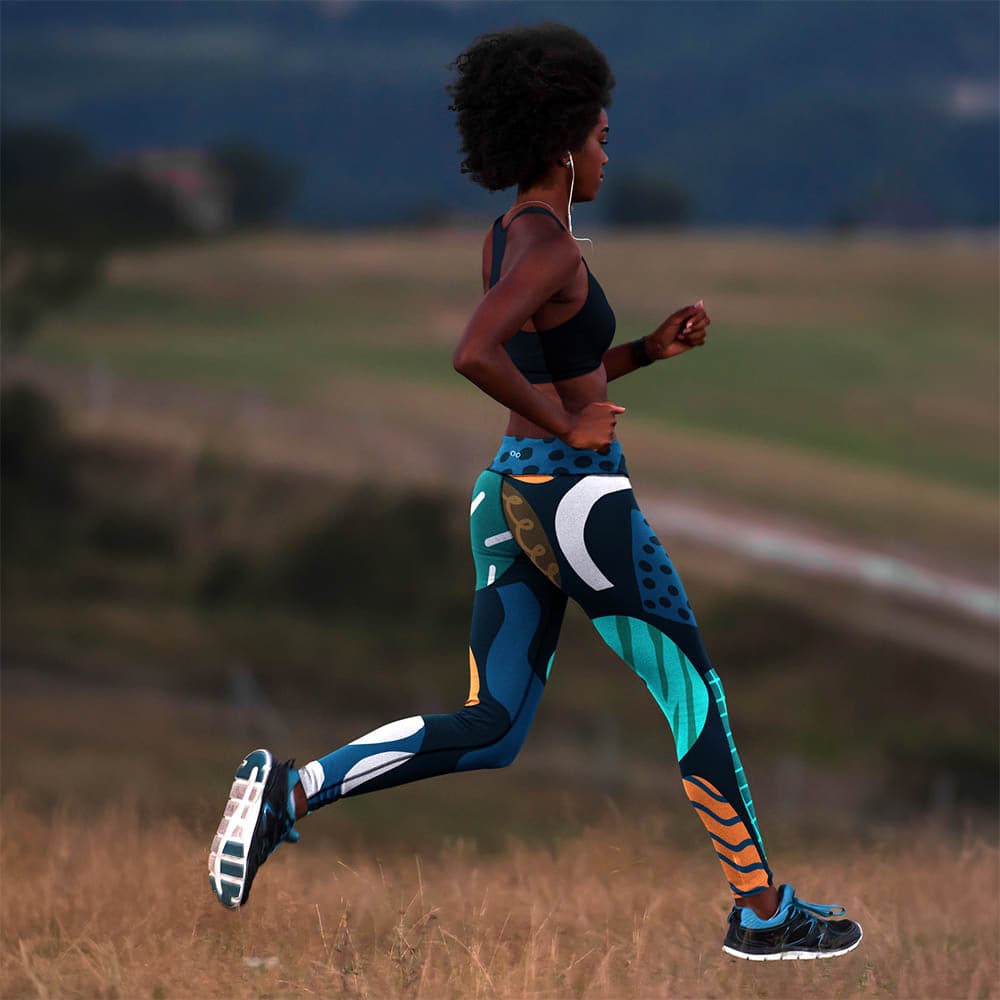 y
How to find your perfect gym leggings that fit properly
Finding the ideal pair in a particular size at one store and finding out you're a whole different leggings size at another is a scenario that happens far too frequently. Your regular pants size can be a starting point but knowing these tips and tricks can also be useful when you go online to browse a selection of leggings!
Second skin
We already mentioned that your leggings should feel like a second skin, so here's what we really mean. It should fit snugly across your thighs, calves, and bum without being overly constricting. 
No matter how hard you work out, the best leggings will move with you and fit close enough to your skin to avoid chafing and complement your natural shape.
You can determine if your leggings are the wrong size in a few different ways. It's a clue that your leggings are too tight if the skin around your tummy starts to wrinkle. The additional fabric surrounding your crotch indicates that they are excessively large and may cause chafing. 
The size is too small if the material becomes sheer when squatting. You should go up a size or two if your leggings have begun to slide down.
Make sure they're squat proof
Get the desired, "squat-proof" effect by making sure your leggings fit properly. Stretchable leggings that are squat-proof prevent your skin or knickers from showing through. To help you select the right pair, make sure to read a sizing guide and grab a tape measure to accurately measure yourself! 
If you choose the incorrect size, your leggings may become too tight and lose their shape over time due to their lack of natural stretch. Additionally, your leggings appear sheer when they are stretched past their breaking point.
High waisted leggings are your best friend
Investing in a pair of high waisted leggings is another excellent method to guarantee that your pants won't slide down while you work out. 
During workouts, the waistbands on these will provide you with better support and are less prone to slide down your body because they sit higher on your stomach than standard leggings. 
They not only provide you with support, but they also go well with sports bras to get a shirtless style without making you feel exposed.
Compression
Athletic clothing, such as leggings and yoga pants, frequently has compression added to it in order to reduce unwanted movement and offer a sleek, secure fit. 
A few of us might also value the fact that it can offer some mild contouring! While some compression gear has compression zones, others have compression applied throughout.
Compression pressure fabric is designed to increase blood circulation, which can enhance sports performance, lessen fatigue, and even facilitate muscle regeneration. Compression leggings are frequently high rise and include a thicker waist band.
Ready to find funky patterned leggings that fit you right?
Since every person's body is different, there isn't really a single ideal way that leggings should fit. Choose a size and design that best suits your comfort level by paying attention to your body type. When trying on and purchasing new exercise leggings, keep in mind the previously mentioned tips.
Our unique patterned leggings are designed to make you feel and look your best for whatever you have planned for the day, whether you're wearing them for a vigorous workout at the gym or for casual wear.
Regardless of your shape or size, you don't have to sacrifice style thanks to our selection of plus size leggings; you should feel good about yourself!
How should workout leggings fit FAQs
How tight should gym leggings be?
Without being too tight to feel constricting, they should fit snugly around your thighs, calves, and bum. It's normal to have to squirm a little to get them on, but struggling is not.
How do you tell if leggings are too small or too big?
Leggings ought to fit like second skin. So, there won't be any creases or bagginess. You've probably sized up if the leggings hang loosely about your torso and aren't snug enough.
Why do my leggings keep pulling down?
Maybe you're just wearing a size that is too large. It is possible that the elasticity in your leggings has worn out from frequent wear, causing them to no longer hug your hips as much. Alternatively, it's possible that the dryer and washer caused damage, allowing them to stretch and so make your leggings excessively baggy.