We did not anticipate capri pants to be on the list of fashion trends from the 1990s and the early 2000s that would return in 2023. However, capri leggings can seem unexpectedly elegant when dressed properly. 
Contrary to low-rise bottoms, and several other dubious early 2000s fashions, capri pants are cosy, useful and incredibly adaptable. Wearing capris can be dressed up or down, styled for the office, or worn for a casual stroll with flats and a button-down shirt.
The garment's creation is attributed to German designer Sonja de Lennart, who launched it 75 years ago. But Audrey Hepburn popularised Capris at a time when women seldom wore pants. What a legend!
The classic ankle length pants have made a resurgence for 2023 which means cropped pants and leggings are also back in the fashion mix! Check out how to wear capri pants and leggings below!
What are capri leggings?
Leggings with a cropped hem are the perfect accent to your workout attire. Cropped leggings have gained popularity recently because of their ability to appear effortlessly chic while also feeling comfortable. 
As the name implies, capri leggings stop short of reaching your ankles, unlike full-length exercise leggings. They are instead cropped slightly above that region, frequently around your leg's calf.
Let's start by discussing how these leggings differ from a typical full-length pair of ankle pants. These are for you if you frequently cuff the bottom of your leggings or bunch up your waistband. Naturally, full-length pants or leggings typically reach your ankle.
Cropped pants or leggings, on the other hand, are a little bit shorter and hit you mid-calf. This length is most comfortable for many exercise enthusiasts because it allows for flexibility and breathing room. 
Depending on your height and the sport you're participating in, you'll want to decide between cropped leggings and full-length gym leggings.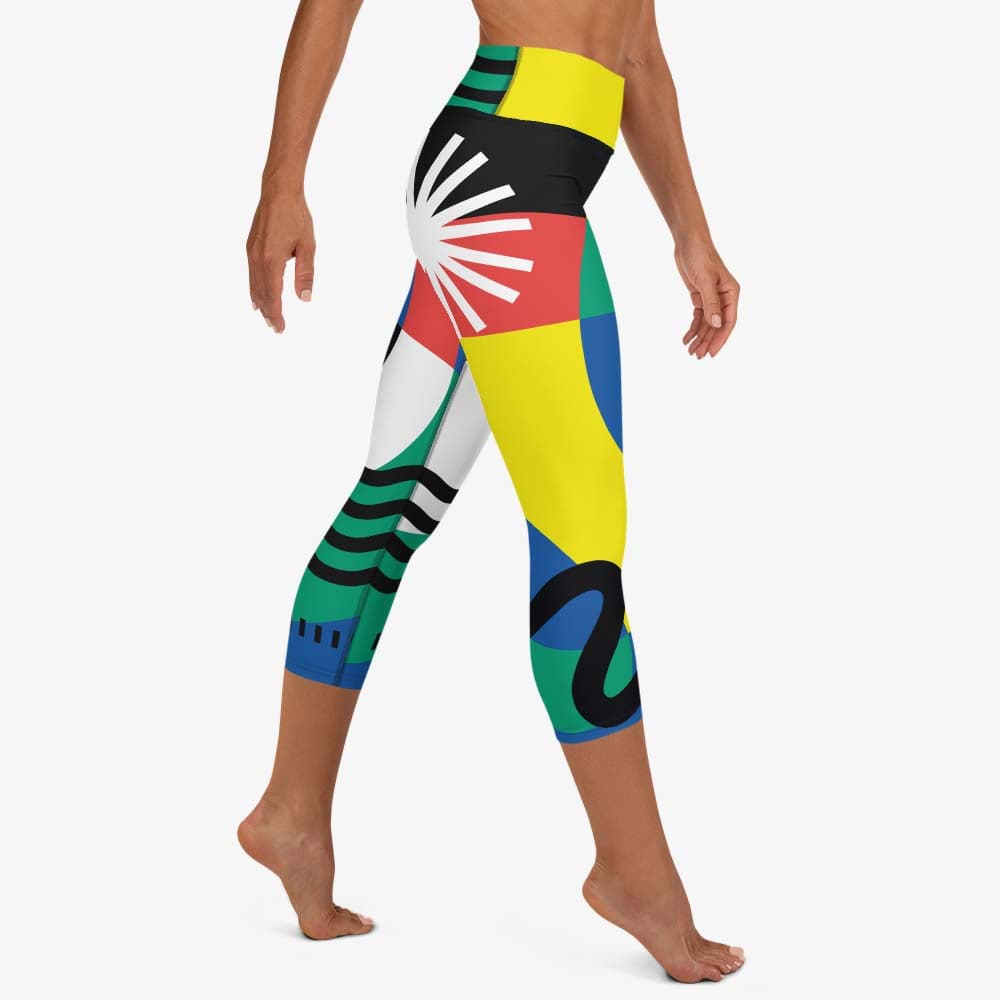 How to wear capris in 2023
According to data gathered by the financial technology platform Afterpay, capri sales have increased by 22%, with Gen X accounting for 52% of total sales and Gen Z for 43%.
So now we know the capri pants and capri leggings are definitely back in style, let's take a look at how to style them!
Capri leggings with a tunic top
A pair of black capri leggings can be given some autumnal life with a long blouse or flowy tunic. With black leggings, a stunning black bag, and black slides, this wavy print tunic looks chic and contemporary. Who knew crop pants could be so fashionable?
Capri leggings with a button up shirt
A simple black or white top goes well with colourful capri leggings. When it's still a bit warm outside and you want to look and feel cool in every way, this cool linen shirt is ideal. Pair this outfit with white shoes and accessories. This ensemble exudes a festive vibe without appearing twee.
This look would also work well with jean capris or cropped trousers if you're wanting a more formal look for your capri outfits!
Capri leggings with an oversized T-shirt
With capris and leggings, an oversized t-shirt looks wonderful, but not just any t-shirt will do. Going bold will make you feel playful and stylish. To play up that southwest vibe, it looks wonderful combined with rope shoes and a suede bag.
Or if you're feeling a more casual look, a simple white tee with a pair of trainers is the way to go!
Black Cropped Tank Top with Floral Printed Capri Leggings
You can look upbeat and athletic by wearing this attire to the gym. By the way, if you are the kind of person who needs just a little extra motivation to hit the gym, dressing stylishly is a really lovely way to do it. 
Wear a black sports bra top with a pair of capri leggings with a white and black design to create this look. Finish the young look by rocking black trainers.
Capri leggings with a blazer
This is a business-casual dress that can make you appear both relaxed and youthful. You can pull off this style by pairing a white tunic tank top with a pair of capri leggings. 
To create some lovely layers, put on a classic black blazer. Put on a pair of white high top trainers to complete the appearance with a sporty touch.
Capri leggings with a tank top
Wear your favourite pair with a loose top, tall, comfortable socks, and a matching cap for a terrific hiking outfit which is perfect for those Instagram snaps!
For those of you who have worn capris for hiking before, you'll already know the bliss of a breeze brushing your ankles when breaking a sweat!
Looking for funky patterned capri leggings?
Even when they were not in the spotlight, capri pants remained a popular choice in fashion. 
It's tough to picture Audrey Hepburn without her recognisable capri pants or to reflect on unconventional 2000s fashion without recognising the defining cropped jeans and pants era. 
You can definitely include them on your list of autumn essentials now that the capri pants are experiencing a much-needed resurgence.
Our capri leggings from Loony Legs are suitable for any occasion and available in a range of designs, prints, and fabrics. Treat yourself to a new pair of leggings today and feel empowered in the gym, yoga studio or just at home! 
Are capris in style? FAQs
Are capris still in style in 2023?
Yes! Capris have made a comeback for 2023! The past year has seen a significant resurgence of capri pants. For many people, the remembrance of these trousers as a well-liked kid's outfit from the late 1990s and early 2000s makes them feel nostalgic. 
In the past, capris were frequently worn loosely, almost in gaucho style. In 2023, trend-setters will favour legging silhouettes that are form-fitting.
Why do people wear capris?
They feel significantly cooler because the legs are shorter than those of ordinary trousers or ankle pant. In addition to the summer, they are worn by many women in the spring and autumn. They are a particularly popular option when the temperature is warm but not quite warm enough to wear shorts.
How do you look good in capris?
Choose high-rise styles to make the garment appear longer and make you appear taller. No matter how long your capris, pants or shorts are, they look their best when hemmed at the point where your leg gets the slenderest.