When purchasing any item of clothing, finding the appropriate size and fit is essential for your comfort and confidence! This is particularly true if you're looking for new leggings. 
If you want to wear leggings for exercise or to wear with your everyday outfits this year, you need to search for pairs that provide adequate covering without restricting your range of motion. Workout leggings need to be up to scratch for the downward dog!
Leggings are currently one of the most searched-for products on the Lyst fashion search engine, which records 430,000 searches for the term each month. 
But we wonder how many leggings purchases actually result in the right leggings fit, after all the sizing for one company will not be the same size for another!
Whether you're looking for full length leggings, cropped leggings or capri leggings, we're here to fight the camel toe and show you how to choose the right size leggings!
Why is getting the right leggings size important?
Your leggings should feel like a glorious second skin.
It's important to select the best leggings possible. A good pair will keep you dry and cool (moisture wicking), offer the proper features and support, and look and feel wonderful while you're wearing them. No one likes to be heaving their leggings up during a workout or yoga session, so getting the fit just right is essential.
Your leggings may keep slipping down for a variety of reasons. For example, if the fabric is too thin and lacks sufficient elasticity, it may begin to droop in important wear-and-tear places (such the bottom and tops of the thigh). 
Any looseness in the crotch region means your leggings will start to slide down when you walk; they should fit smoothly against the skin. However, you don't want them to be so tight that they dig in or pinch, as this will cause you to lose focus during your workout.
High waist leggings offer excellent support and coverage. They have a tighter fit feeling and move with you as you exercise. No matter how intense the workout, they should stay in place because they fit snugly around the waist and lower back.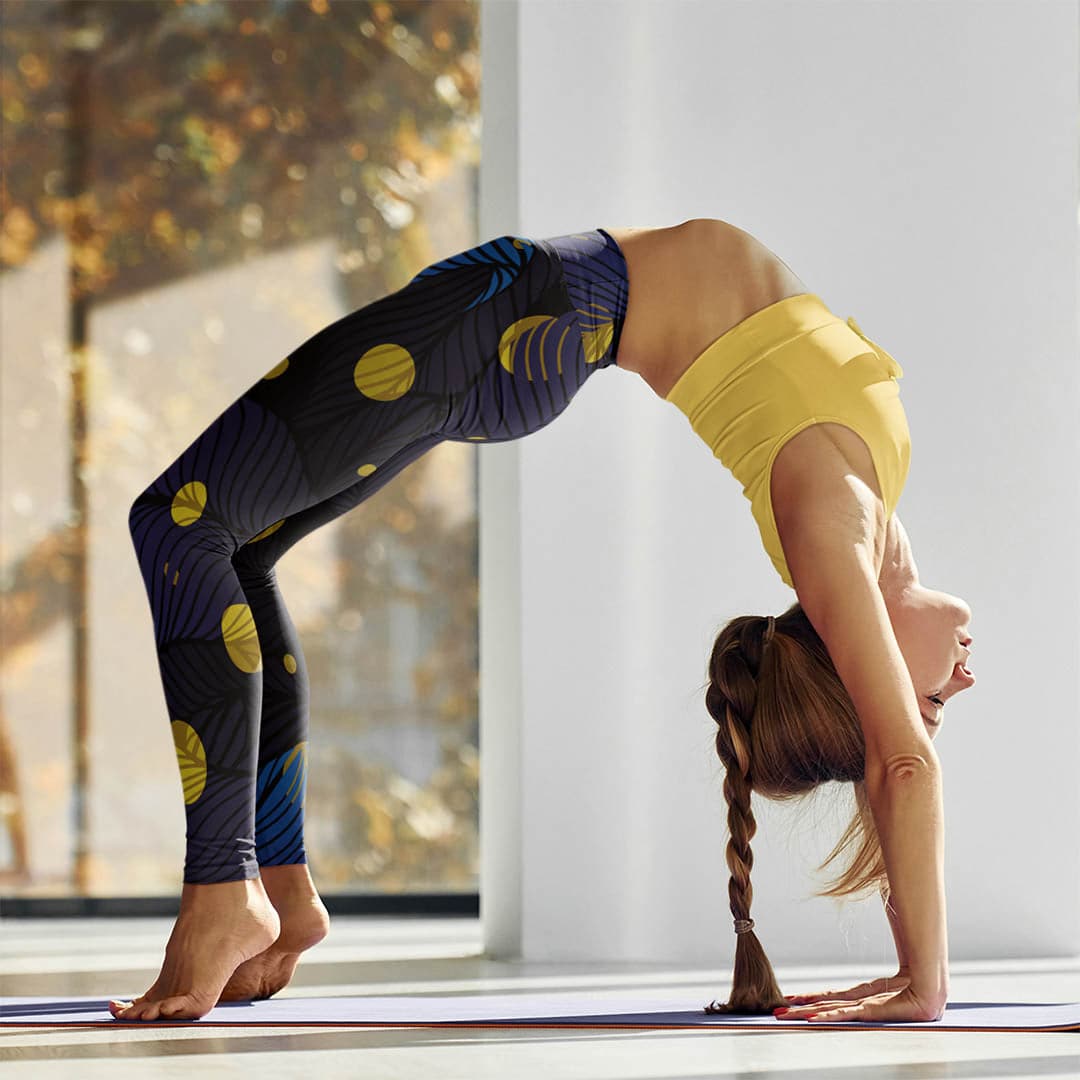 Tips for finding your perfect pair of leggings
The right pair of leggings can completely alter your workout! Learn how to pick the ideal pair of leggings each time to avoid having to adjust them after each rep or yoga pose!
Use your normal pants size as a starting point
Leggings won't fit you as regular trousers do, and they shouldn't. However, starting with the size of your trousers is still an excellent idea. You probably won't need extra-large leggings if you typically wear small or extra-small pants.
However, depending on where you live, size formats can vary. This can easily turn into a problem if you're buying leggings online. For instance, some manufacturers adhere to the Small, Medium, and Large international sizing standard. However, US brands measure sizes in inches, while EU businesses measure sizes in centimetres.
Finding an international size conversion chart is the simplest method to sort through the confusion. A sizing chart or guidance is often posted somewhere on the websites of most brands who sell leggings online. They may also be directly incorporated in their product pages, take a look at the Loony Legs size guide below!
Get measuring!
Take a waist measurement first. Just above or along your belly button, wrap a piece of tape around the narrowest region of your waist.
Next, take a hip measurement. To achieve this, stand with your feet together and wrap the measuring tape around your buttocks, the broadest section of your hips, and the area directly behind your hip bones.
Lastly, take a measurement of your inseam, sometimes known as the length. Start at the point where your crotch ends and move the tape measure down the inside of your thigh to the ankle bone. (Especially if you're looking for ankle length leggings.)
Find out what the wrong size is for you
This may sound counter productive, but knowing why the pair of leggings you now wear doesn't fit you well is sometimes the greatest method to discover the ideal pair. 
First of all, there should be no exceptions to the rule that leggings be entirely opaque. When you stretch, squat, or bend, you shouldn't be able to see your skin through them; otherwise, they are too tight. You should size up or try a pair made of a higher quality material.
Another approach to determine if the leggings are the incorrect size and fit for you is to look at the crotch area. When you put it on, if there is excessive fabric collecting there, the leggings are too big and you should order a smaller size.
However, if you can make out the outline of a camel toe there, they are excessively tight and pushed out against the crotch. You should absolutely order at least one or two sizes larger in that situation. In addition, leggings shouldn't ever tug or pinch you while you're walking or doing a yoga position.
Choosing the right style
Your choice may be greatly influenced by how your leggings look and how they fit your body.
You'll feel comfortable wearing leggings that fit well, highlight your body shape, and flatter your figure, which could improve your performance.
Choose from a variety of designs, patterns, and colours to showcase your personality and have some fun with your training attire. Pair it with a matching sports bra to complete the appearance.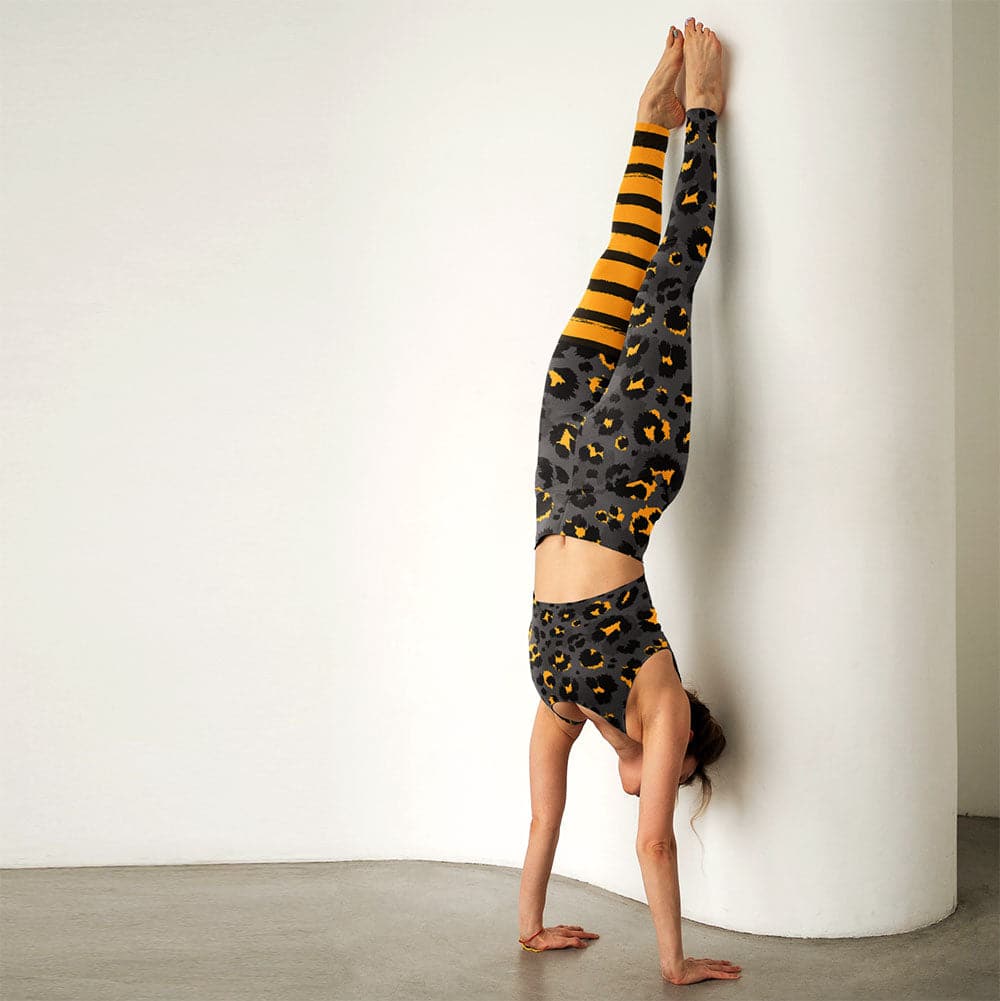 Looking for funky patterned leggings that fit like a dream?
Whether you want your leggings for casual wear or an intense workout at the gym, our funky patterned leggings have been made for you to look and feel your best, whatever you have planned for the day ahead.
Our range of plus size leggings means you don't have to compromise on style, whatever your shape or size, you deserve to feel confident!
Treat yourself to a new pair of leggings today and rock them with confidence.
How to choose the right size leggings FAQs
Should I size up or down for leggings?
Your body type will have an important influence. To ensure that your leggings fit comfortably and don't accentuate your curves too much if you have a curvier frame, size bigger. You might want to size down so they aren't as baggy, though, if you're more slim.
Are leggings supposed to fit tight?
It should be comfortable around your thighs, calves, and butt without being overly constricting. No matter how strenuous your workout, the perfect pair of leggings will move with you and fit snugly enough against your skin to avoid chafing.
Does legging size matter?
First of all, all leggings ought to be 100% opaque. Leggings are too small if you can see through the fabric when you put them on. It will be more comfortable and keep you from wearing through the fabric too quickly if you get a size up.