You can walk out the door in the morning (or at night) with complete confidence when you're wearing the ideal pair of leggings. Leggings and yoga pants have amazing powers that make you feel comfy, trendy, and stylish all at once.
When selecting the ideal pair of leggings, there are many things to take into account. Everybody has experienced trying on multiple pairs and never feeling quite right. After a few wears, every step you take will cause your waistband to slightly loosen. What became of your trusty, everyday athleisure essentials?
On average, most people have three to five pairs of leggings, and there's nothing more frustrating than finding all your leggings fall down or roll down after a few wears!
We're here with your guide to finding and wearing leggings that don't fall down as well as how to stop your leggings from falling. Let's go!
Why do your gym leggings keep falling down?
There are several possible causes for your leggings to slide down. Perhaps you got the wrong size and the size you're wearing is just too big. Perhaps the elasticity in your leggings has worn down from constant wear and tear, causing them to no longer hug your hips. 
Or maybe the dryer and washer took a toll on your legs, causing them to sag until your leggings were too big…
Let's examine the things to pay attention to while choosing your first pair of leggings in more depth before attempting to "fix" them. A good pair of leggings should ultimately be a reliable pair of yoga pants. They ought to be constructed with stretchability and style, comfort and versatility, and, above all, stability in mind. When you wear leggings, you shouldn't be worrying about them staying up!
5 tips to stop your gym leggings falling down
One of the most frustrating things ever is when leggings come down. Nothing is more irritating than starting a light jog and having to spend the whole distance tugging up your leggings. Pulling up your waistline will divert your attention from completely engaging with your body and yourself.
Here are some ways that you can change that:
Opt for high waisted leggings
There's just no way we can choose between high-rise and low-rise leggings. While high-rise is all 80s and 90s, low-rise gives us those trendy early to mid-2000s feelings. All great decades, if we may say so.
Nonetheless, high-waist leggings are extremely comfortable and typically remain on the hips and hug the body more often than not. Improved snugness and hold are two benefits of wearing high-waisted leggings. They also look fantastic with crop tops and sports bras.
Read the size guide
The first step in the leggings shopping process is to find the proper fit. There is no guarantee that a large will always be a large, and a medium may not always be a medium due to manufacturer variations in size requirements. If this sounds like a puzzle, that's because it is: It's important that your leggings hug and fit you properly!
Because of this, it's crucial to refer to the unique sizing chart provided by each company. For instance, at Loony Legs, our sizing chart accommodates all body types from XS to 6XL since our bodies are as different as our leggings and sports bras!
Compression leggings
Compression fabrics are incredibly versatile. To begin with, if you are familiar with compression tops or compression tanks as more comfortable options to binders, you may already be familiar with compression materials.
Although the original purpose of compression clothing was to support blood flow, a lot of people have subsequently jumped on the compression fabric bandwagon.
Whatever you're doing, compression leggings will be more snug so you won't have to keep pulling them up.
Try and avoid cheap leggings or low quality fabric as these are the tell tale signs that your leggings will eventually roll down!
Drawstring leggings
You just need a little additional help sometimes, without compromising your personal style. Try a pair of leggings or yoga pants with drawstrings or strengthened seams. Without ever having to give up any style, these two additions contribute to adding an additional layer of security.
Take care of your leggings
Taking care of what you have is a solid general rule of thumb. Unlock the secrets of washing and drying by reading the label included inside the leggings.
Although leggings were originally designed for exercising, they are now also used for lounging on the couch for or running everyday errands. In either case, you should wash after every leggings wear, especially if you sweat in them.
Even with all the abrasions of daily life, leggings can last longer and remain in excellent shape if you know how to wash, dry, and preserve them correctly.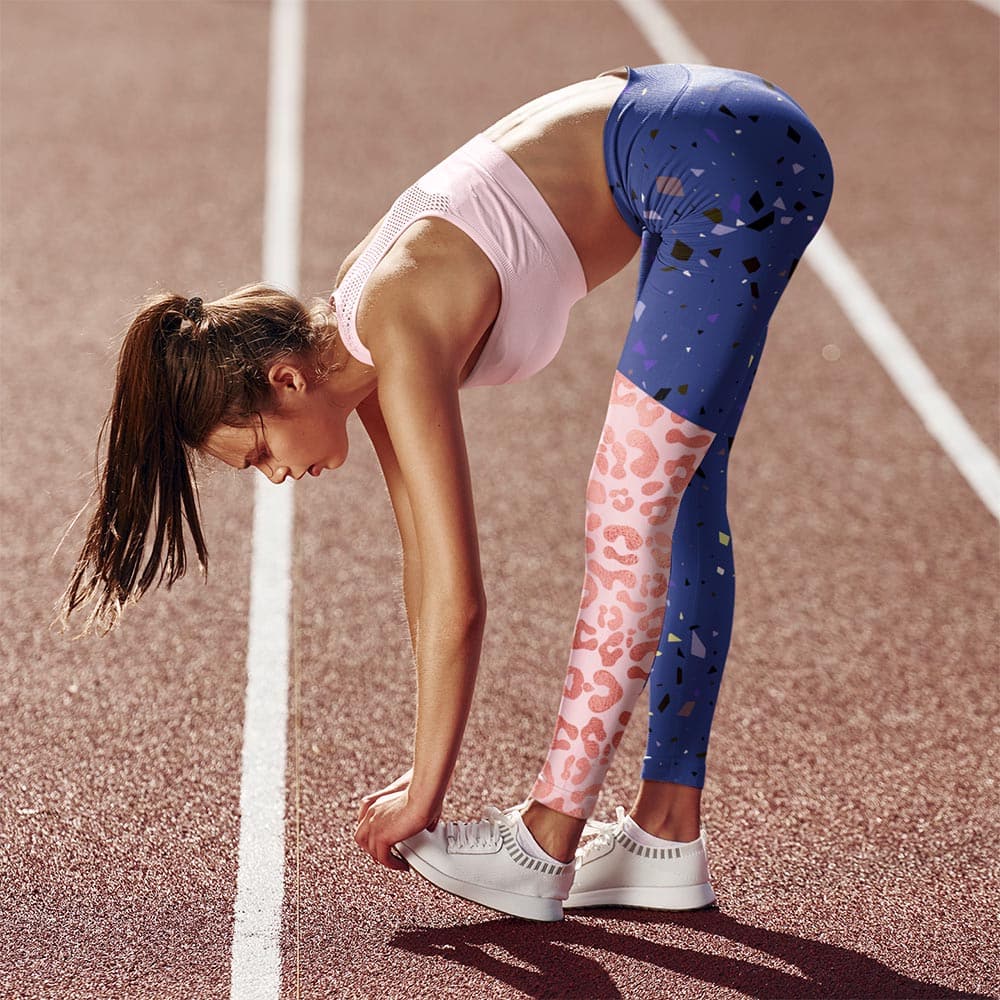 Looking for funky patterned high waisted leggings?
Though purchasing the cheapest clothing may be tempting, there's a good possibility these pants won't last very long. When we prioritise sustainable and high-quality buying, we find better products with longer shelf lives.
Ultimately, all we need to do is choose the leggings that are the most comfortable for us. Choose a pair that hugs your body, is comfortable for both relaxing and moving around, and fits just where you need it.
Leggings that not only offer you peace of mind for your own benefit but also for the purpose of the environment, and leggings that you can simply dress up or down depending on who is hanging out. To make the world a better place to live in and better leggings, all of these things are important.
Our unique patterned leggings are designed to make you feel and look your best for whatever you have planned for the day, whether you're wearing them for a vigorous workout at the gym or for casual wear.
Regardless of your shape or size, you don't have to sacrifice style thanks to our selection of plus size leggings; you should feel good about yourself!
Gym leggings falling down FAQs
Why do my leggings slide down?
Your leggings will not stay in place no matter how high-quality they are if they are not worn correctly. The most crucial thing to keep in mind when wearing a waistline is to make sure it rests level against your skin and doesn't bunch or fold at the top or bottom.
Why do I always have to pull my leggings up?
There are several possible causes for your workout leggings to slide down. Perhaps the size you're wearing is just too large. Perhaps the elasticity in your leggings has worn down from constant wear and tear, causing them to no longer hug your hips.
Is it better to size up or down in leggings?
Your body size should determine whether you should size up or down in leggings. For example, you should size up if your leggings fit tighter than comfortable. If your leggings are loose, roomy, or baggy, particularly in the thigh and leg area, you should also size down.